Details
Identification

ISSN 1977-5296

Publication date

1 June 2013

Author
Description
Peer Reviewed Articles
Design of a liquid scintillator-based prototype neutron coincidence counter for Nuclear Safeguards
A.Tomanin, P. Peerani, H. Tagziria, G. Janssens-Maenhoutet al.
Active Coincidence Counting using Cf-252
S. Croft, K. A. Miller and A. Favalli
Fast neutron coincidences from induced fission as a method for detection of SNM
Ocherashvili, M. Mosconi , J-M. Crochemore and B. Pedersen et al.
Development of a reference spent fuel library of 17x17 PWR fuel assemblies
R. Rossa, A. Borella and K. van der Meer
Production of monodisperse uranium particles for nuclear safeguards applications
A. Knott and M. Dürr
Investigation on the long-term stability of IRMM-1027 series Large Sized Dried (LSD) spikes
R. Buják, J. Bauwens, R. Jakopič, M. de Groote et al.
Comparative assessment of the Pu content of MOX samples by different techniques
R. Buda, R. Carlos-Marquez, E. Dahms, F. d'Amati et al.
Changes in impurities observed during the refining and conversion of uranium
G. Healey and P. Button
Images Objects vs Pixel: A comparison of new methods from both domains
S. Nussbaum, J. Tueshaus and I. Niemeyer
Proliferation resistance features of reprocessed uranium
K. Abbas , Abbas, G.G.M. Cojazzi, G. Mercurio, P. Peerani et al.
Application of the PR&PP Methodology to the MYRRHA research facility
R. Rossa, K. van der Meer and A. Borella
Applicability of Nonproliferation Tools and Concepts to Future Arms Control
M. Dreicer and G. Stein
Development of an Advanced Ceramic Seal for Maintaining CoK in Treaty Verification and Safeguards Applications
H. Smartt, J. A. Romero, M. Thomas and B. Cunningham
Societal Verification: Intellectual Game or International Game-Changer
K. Hartigan and C. Hinderstein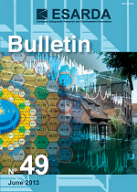 Files