Details
Identification

ISSN: 1977-5296, DOI: 10.3011/ESARDA.IJNSNP.2022.1

Publication date

1 June 2022

Author
Description
Volume: 64, issue 1, June 2022, pages 2-9
Authors: Erik Branger, Zsolt Elter, Sophie Grape and Markus Preston
Uppsala University
Abstract:The Digital Cherenkov Viewing Device (DCVD) is one of the instruments used by safeguards inspectors to verify spent nuclear fuel in wet storage. The DCVD can be used for partial defect verification, where the inspectors verify that 50% or more of an assembly has not been diverted. The methodology is based on comparing the measured Cherenkov light intensity with a predicted intensity, calculated with operator information.
Recently, IAEA inspectors have encountered fuel assemblies for which systematic deviations between predictions and measurements could be observed, indicating that the prediction model did not take into account all sources of Cherenkov light production. One contribution to the Cherenkov light intensity that is frequently omitted is the contribution from beta decays, where energetic electrons exit the fuel material and enter the water with sufficient energy to directly produce Cherenkov light. The objective with this work was hence to study beta contributions and evaluate whether that could be the cause of discrepancy between predictions and experimental data.
By simulating the beta contribution for fuel assemblies where the discrepancy was experimentally observed, it was determined that beta decays were the cause. The fuel assemblies had fuel rods with relatively small radii, thin cladding, a short cooling time and an irradiation history that resulted in a relatively large beta contribution for assemblies that had a comparatively low burnup. Therefore, the beta contribution was significant, and caused 10-40% of the total Cherenkov light intensity. By including the beta contributions in the predictions, the RMSE of the deviation between prediction and measurement could be reduced from 20.7% to 11.6% for the available measurement data. The results highlight that the beta contribution can be significant and should be taken into account for accurate predictions.
Keywords: Nuclear safeguards, Cherenkov light, DCVD, beta decay, spent fuel verification
Reference guideline:
Branger, E., Elter, Z., Grape, S., & Preston, M. (2022, June). Studies of the impact of beta contributions on Cherenkov light emission by spent nuclear fuel. ESARDA Bulletin - The International Journal of Nuclear Safeguards and Non-proliferation, 64(1), 2-9. https://doi.org/10.3011/ESARDA.IJNSNP.2022.1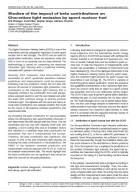 Files
Studies of the impact of beta contributions on Cherenkov light emission by spent nuclear fuel
English
Download