Details
Identification

ISSN: 1977-5296, DOI: 10.3011/ESARDA.IJNSNP.2017.5

Publication date

1 June 2017

Author
Description
Volume: 54, June 2017, pages 31-43,
Authors: G. C.-Y. Chan, J. D. Valentine, and R. E. Russo
Lawrence Berkeley National Laboratory
Abstract:
Uranium hexafluoride (UF6) is the uranium compound typically involved in uranium enrichment processes. As the first line of defense against proliferation, accurate determinations of the uranium isotopic ratio (or enrichment) in UF6 are critical for materials verification, accounting and safeguards. Currently, mass spectrometry (MS) is the most sensitive measurement technique for analysis of stable and long-lived isotopes. However, current MS techniques require too much infrastructure and operator expertise for field deployment and operation. In-field isotopic analysis of UF6 has the potential to substantially reduce the time, logistics and expense of bulk sample handling by allowing for an 'informed' choice of samples to be sent to a central laboratory for further definitive analysis by standard techniques.
It is common that the next generation of analytical instruments is driven by technologies that are either currently available or just now emerging. Therefore, a comprehensive and in-depth review is conducted on state-of-the-art and emerging technologies for field enrichment analysis of UF6. These technologies are evaluated based on their competitive advantages and current limitations for in-field UF6 enrichment assay. The objective of the study is to identity the most promising technologies that can be used for development of the next-generation, field-deployable instrument for providing rapid, accurate, and precise UF6 enrichment assay. In this paper, we provide an overview of instrument options, discuss their limitations, and examine the main gaps between needs and capabilities for their field use.
Keywords: uranium hexafluoride; enrichment assay; mass spectrometry; optical spectrometry
Reference guideline:
Chan, G.C.-Y., Valentine, J.D., & Russo, R.E. (2017). Towards novel field-deployable instrumentation for UF6 enrichment assay – an overview of existing and emerging technologies. ESARDA Bulletin - The International Journal of Nuclear Safeguards and Non-proliferation, 54, 31-43. https://doi.org/10.3011/ ESARDA.IJNSNP.2017.5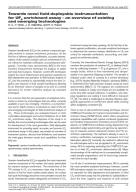 Files
Towards novel field-deployable instrumentation for UF6 enrichment assay – an overview of existing and emerging technologies
English
Download