Details
Identification

ISSN: 1977-5296, DOI: 10.3011/ESARDA.IJNSNP.2017.1

Publication date

1 June 2017

Author
Description
Volume: 54, June 2017, pages 2-5,
Authors: P. Checchia1, F. Gonella1, A. Rigoni2, S. Vanini2, G. Zumerle2
1INFN sezione di Padova, 2Department of Physics and Astronomy, University of Padova
Abstract:
At present no validated methods to verify the content of Dry Storage Containers exist. The investigation profiting of cosmic muons may constitute a very effective method to detect or exclude the presence of spent fuel bundles. The layout of a possible detector and the techniques to provide the relevant information are described. A specific proposal to evaluate effects of surrounding radioactivity on detector performance is presented.
Keywords: muons tomography; spent fuel control; muon detectors
Reference guideline:
Checchia, P., Gonella, F., Rigoni, A., Vanini, S., & Zumerle, G. (2017). Muon Tomography for spent nuclear fuel control. ESARDA Bulletin - The International Journal of Nuclear Safeguards and Non-proliferation, 54, 2-5. https://doi.org/10.3011/ ESARDA.IJNSNP.2017.1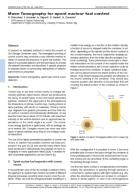 Files